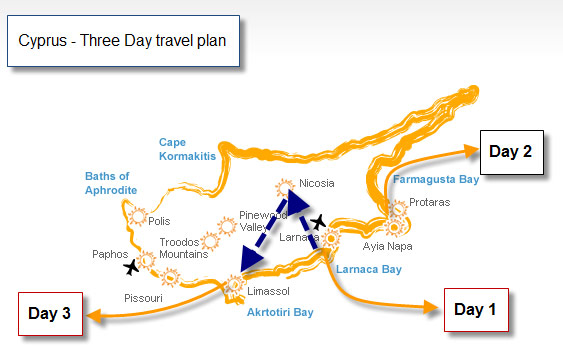 Since we are the owners of Every day is a Gift (Art Gallery in Larnaca See it at Trip Advisor press here many tourists keep asking me… which is the best place to visit in Cyprus? Well, there are many it depends what you like? Well, we only have three days in Cyprus…
Ok. Let's begin then, if you stay in a hotel in Larnaca, then I guess, I should start from here:

Day one

Saint Lazaros square (City center); One of the most busy areas that you can visit one of the largest churches in Larnaca and have a coffee nearby to local cafeterias. Prices are very reasonable starting from 1.20 euro per coffee. From here, I would suggest a walk (100 meters) to the beach front where you can see the old castle (open in day time and you can visit for a minimal fee thus, 2 euros/person).
Moreover, you can walk in the sea front of Finikoudes area which is a 400 meters sea front beach full of cafeterias.
From here, only if you have a car, I would suggest you visit:

The salt lake (this is approximately 5 km from the area you are now) which is a must see; if you are visiting Cyprus in Summer, please note that you would better go there early morning or late afternoon because of the sun; Also take with you water etc. since there are no nearby cafeterias. - Evening time? Well, there are fantastic restaurants, in the area for reasonable prices; if you end up again at Saint Lazaros square, I would recommend "Souvlaki Stou Feshia" which is across the street and you can't miss it.

Day two
Drive towards the area of Protaras, Ayia Napa. Here, you will spend the day!. Drive highway is very clean, easy to drive; The first stop I would make is not in the city centre of Ayia Napa, but at the sea caves (See image below!) This is a must see and is a 40 minutes drive from Larnaca. Follow the instructions below and you can't miss it. Take with you snacks and drinks since there are no cafeterias, you can enjoy swim here and the cave for a couple of hours.

Next after that I would drive to Konnos area which is a drive from Ayia Napa to Protaras; Here, there are watersports, a lovely cafeteria, and you will enjoy swimming! I would spend 3 hours here as well!

If you are into scuba diving there are lovely places to scuba in Cyprus, such as the house of the Arapis (this is how they call it) which is a national diving reserved place.

Then, I would go to the city center of Ayia Napa, enjoy the walks, pubs, drinks etc. If you are there, the most famous beach is Nissi Beach (there is a hotel called Nissi Beach). The beach is a class of its own and you will enjoy the rest of the day;

Day three
Get ready to drive!, Go to Nicosia which is approximately 35 minutes' drive. There is nothing much to see expect the city walls, which are venetian and Famagusta Gate which is a nice area and or Ledras street to see the Green or Border line of the Turkish occupied area. Parking is an issue and if you do avoid this then don't mind…

Continue driving towards Platres, a fantastic mountain village that you can walk near the waterfall, and walk 3 km downstream. Enjoy lunch there Trouts which are naturally fished by a few restaurants at the village; This would not cost you more than 20 euros.

I think you rest enough!, get on the wheel and drive down towards Limassol, yes, Limassol, the city which has nothing to do with the rest of Cyprus. A class of its own, with rich cars (many Russian peaceful persons) and enjoy the old town and of course Limassol Marina! From here, you have an option. Visit Kourio which is a must see and a lovely drive towards there.

And then return back home!!!